Adams Morgan Apple Festival Returns Saturday, October 28 with Heirloom Apple Tasting & Apple Pie Baking Contest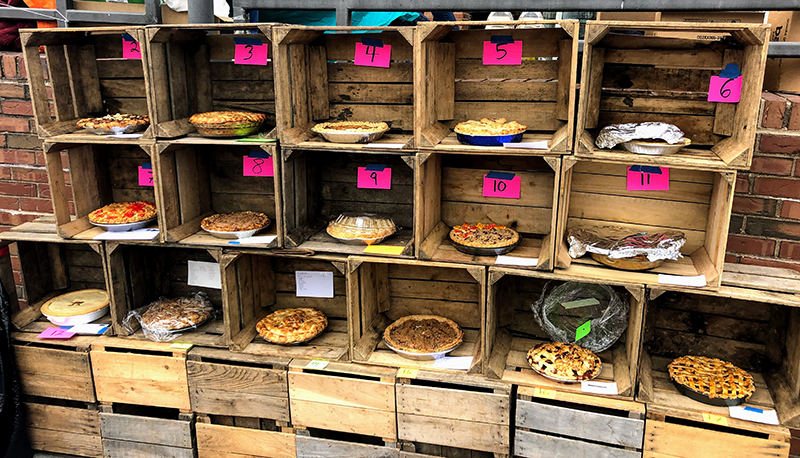 The 10th Annual Adams Morgan Apple Pie Baking Contest and the 15th Annual Licking Creek Bend Farm Heirloom Apple Tasting returns to Adams Morgan on Saturday, October 28! The highly-anticipated community event will take place in front of The Line Hotel and directly across the street from the farmer's market in Unity Park at Euclid and Champlain Streets NW.
Event highlights include an heirloom apple tasting and a homemade apple pie baking contest from residents in the neighborhood. Area bakers compete for the title of 'Best Apple Pie', and attendees can purchase pie slices for $6 each to support Jubilee Jumpstart, a neighborhood nonprofit that provides high-quality early childhood education with a focus on children and families with the least access.
The apple pie contest is judged by the following local pie lovers:
Additional Event Details:
The event is free and open to the public. Each pie-baking contestant will make three homemade 9" pies from scratch (one for the judges, two for sale) and provide a list of their ingredients. Bakers compete for the top slot in five categories: appearance, filling, crust, overall, and People's Choice. The People's Choice category is voted on and scored by the public. A QR code is placed on each individual pie slice that is sold at the festival and the purchaser can score the pie slice they eat. Votes are tallied and the People's Choice winner is announced later in the day. Winners in each category will receive a certificate, a mention on social media, and a 2 week CSA membership from Licking Creek Bend Farm. 100% of the proceeds from pie sales are donated to the local charity, Jubilee Jumpstart. Lots of Adams Morgan businesses will be offering apple-themed specials throughout the weekend for all to enjoy. Apple specials will be listed on the event website. The festival is hosted by the Adams Morgan Partnership BID and Licking Creek Bend Farm, in partnership with The Line Hotel. To learn more, visit AdMoAppleFestival.com.
Follow the Adams Morgan Partnership BID on Facebook, Instagram, and Twitter for neighborhood updates, invitations to special events, and more!
2023 Winners:
Best Crust: Pie G – Anna Brunner
Best Filing: Pie G – Anna Brunner
Best Appearance: Pie D – Paige Schurr
Best Overall: Pie G – Anna Brunner
People's Choice: Pie M – Maeve Day
2023 Apple Pie Contest Entries: