Adams Morgan Movie Nights 2023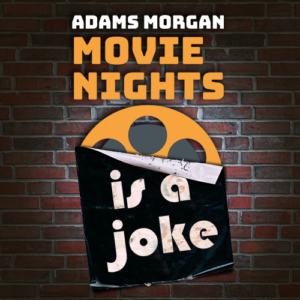 Voted as one of the best outdoor movie series in DC by readers of the Washington City Paper, Adams Morgan Movie Nights is a can't-miss event! Thanks to continued community support, we are showing an extra movie this year over the course of 6 weeks! Adams Morgan Movie Nights will kick off on Tuesday, May 23 and continue with weekly screenings on Tuesday nights through June 27. Movies are free and are shown on the soccer field at Marie Reed School.
And, what better way to end your day in Adams Morgan than with a good laugh? This year's

movie

line-up is comedy focused and sure to put a smile on your face. From recent releases to flicks that have stood the test of time, our team has created the ultimate lineup for your enjoyment.
This year's lineup:
May 23: This is Spinal Tap (Opening 

Night

)
May 30: Coming to America
June 6: The Birdcage (Pride Week)
June 13: Raising Arizona
June 20: Bridesmaids – People's Choice

Movie

June 27: Shrek (Family Night)
Thanks to Hotbed in Adams Morgan, attendees can enjoy comedy both on and off the big screen! Each Movie Night will kick off with a stand-up feature from a local comedian before the movie begins. Hotbed joined the Adams Morgan community in 2022 and is the new home of Underground Comedy, DC's premier independent comedy production company. Best known for producing thousands of shows over seven years in the basement of The Big Hunt, Underground Comedy now has its own dedicated space for the first time. Hotbed offers a mix of free and ticketed shows featuring the best comics in DC as well as rising comics from around the country. These critically acclaimed shows have been featured in The Washington Post and on Comedy Central.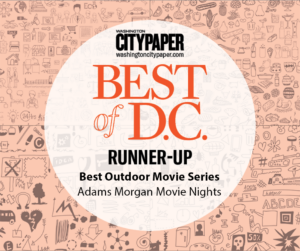 Important notes:
Please note that the 

film

will start 20 to 30 minutes after sunset — usually around 9pm — but guests are encouraged to arrive earlier to find a good spot to sit.

Pets and alcohol are not allowed on the field per DPR/DCPS rules. Service animals are allowed

All 

movies

 are presented with subtitles/closed captioning if available
This year's movies:
Brown Bag Movie Meals
Special deals just for movie-goers! Call to have your food ready to go!
"Single Package – 3 Tacos and a Soda for $15
Family Package – 8 Tacos, Guacamole & Chips, 4 Sodas – $59″
Savory Sweet Popcorn $4
Hot Dogs (Classic $5, Chili Cheese $7)
$10 Movie Night Burgers (Comes with a Side of French Fries, Tater Tots or Side Salad)
(N/A Beverages Available for an Additional Cost)
Kitfo Sandwich with soda $15
Tibs Beef $15
Veg 4 Sampler $13
Lentils Sambusa $3
20% off entire check when you use code: MOVIENIGHT for online pick up orders. Available two hours prior to movie time!
Sandwiches: Kefta sliders $15, Merguez spicy lamb sandwich $15, Soussi burger $14, Spicy chicken Sandwich $13, Veggie burger $10, Mozarella Pomodoro $10, all served with fries
Salads: Soussi Salad $12, Caesar Supreme Chicken $12, Shrimp$14, Salmon $20), Mesclun salad $11
Apps: Hummus, Bruschetta
All served with soda choice
Burger fries and a drink for $14
$12 Snack Pack – Includes 1 Yerevan Style Khatchapuri, 1 Dried Fruit Chips bag, and 1 Lemonade (choice of pear, pomegranate, or tarragon)
More specials being added soon!
---
For a complete list of Adams Morgan dining options, be sure to check out our interactive map!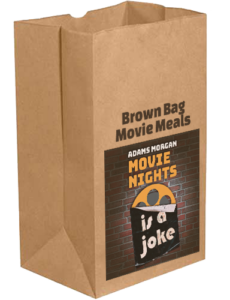 ---