Adams Morgan Self-Guided Mural Tour
Adams Morgan is covered in street art including vibrant murals, colorful building faces, painted jersey barriers, and more! Murals depict life, culture, and values – and because of this, our neighborhood has its own unique style. Some of the murals are here to stay, and others may be replaced in the near future. There's little time to waste, so get out there are start exploring the amazing sights that Adams Morgan has to offer!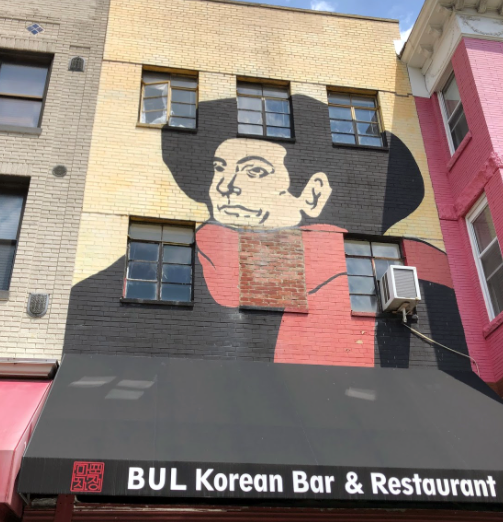 2461 18th St NW
A mural of one of Toulouse-Lautrec's most famous posters of the singer Aristide Bruant Located above BUL Korean Bar & Restaurant and completed in 1980.
The mural was painted from a photograph by the restaurant's original owner, André Neveux. This mural has been an iconic landmark in Adams Morgan for over a decade. It was originally the Cafe Lautrec Restaurant and they later changed the name to Cafe Toulouse, and it is now BUL Korean Bar & Restaurant, started by the owners of Sakuramen, Jonathan Cho and his brother in law Jay.
---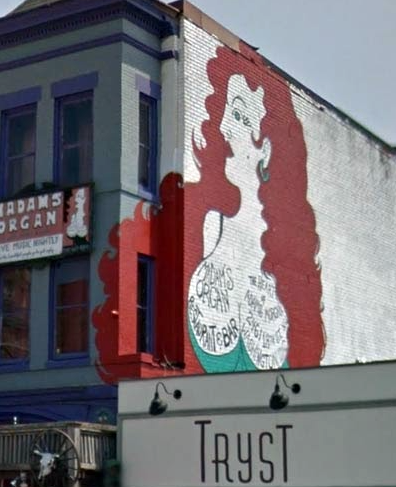 2461 18th St NW
'Madam's Organ'
Located on the side of the Madams Organ Blues Bar building and completed in 1997. The Madam's Organ Mural, an Adams Morgan landmark, was sponsored by the restaurant owner, Bill Duggan and has been controversial for the past few decades. Officially, it's been found to be a non-offensive work of art, and still lives above Madam's Organ Blues Bar.
---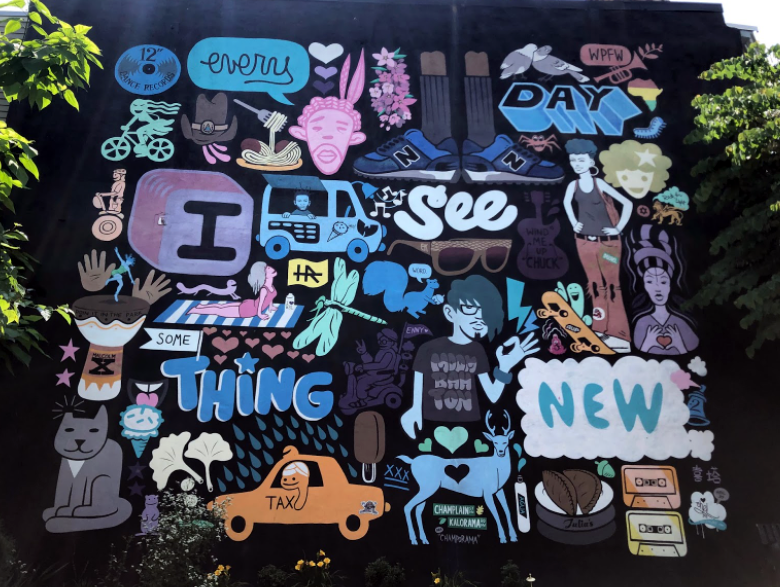 2270 Champlain St NW
'Every Day I See Something New' by Cita Sadeli (CHELOVE)
Located on 'Champorama' (Champlain St and Kalorama Rd) and completed in October 2011. It's a tribute to the hidden and not so hidden treasures in the Adams Morgan neighborhood, and showcases the DC musicians and artists around the neighborhood. This mural replaced the 'Champorama Park Mural.'
---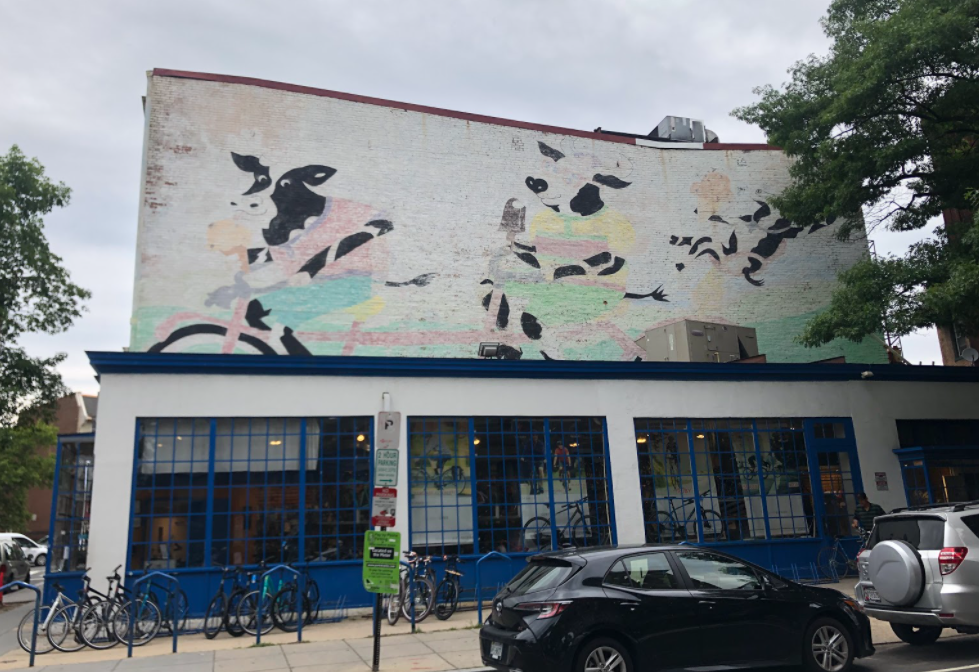 2501 Champlain St
'Cows On Bicycles'
Located above City Bikes and completed in 1989. This mural is very faded and was originally completed when the Ben & Jerry's was still around. The owner
of City Bikes, Robin Stallings, rented out the property next to his to a Ben & Jerry's and commissioned a young artist, Sara Lee Terrat, to develop a design that had to incorporate elements from both businesses. located right above City Bikes and caused some controversy due to the fact that it was seen as an advertisement rather than representing the culture and history of the communities.
---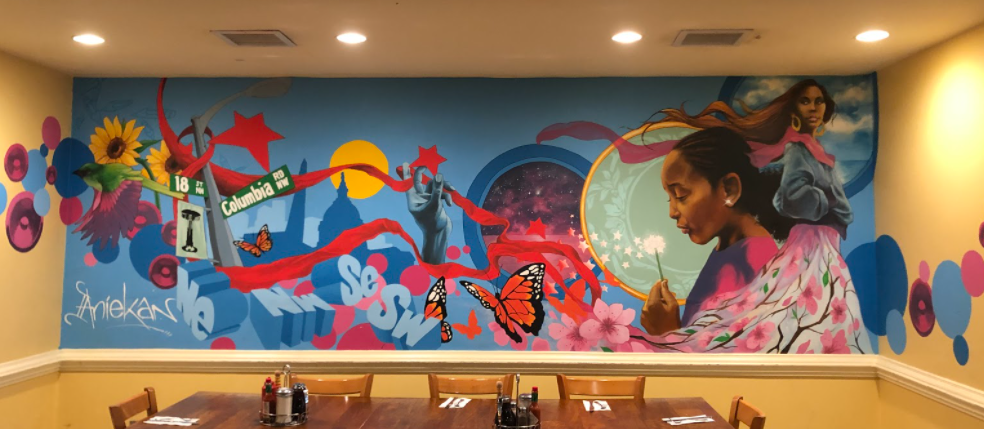 2448 18th St NW
Located inside The Diner by Aniekan Udofia
---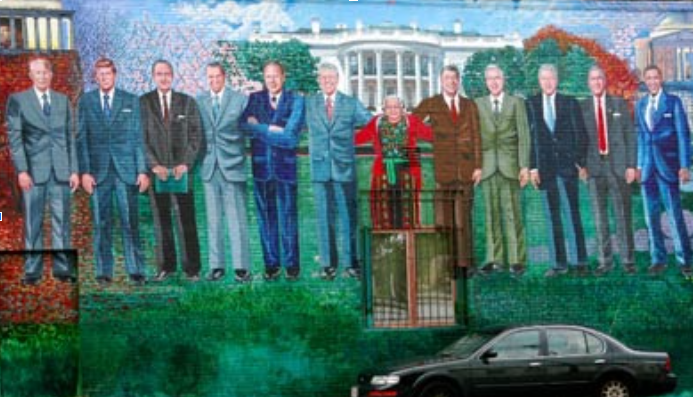 1941 Calvert St
'The Mama Ayesha's Restaurant Presidential Mural' Located on the side wall of Mama Ayesha's and completed in 2009
Owner, Mama Ayesha, posing with eleven presidents from Eisenhower to Obama. Created by El Salvador-born artist Karla Rodas (aka Karlisima), the mural was funded by the D.C. Commission on the Arts and Humanities.
---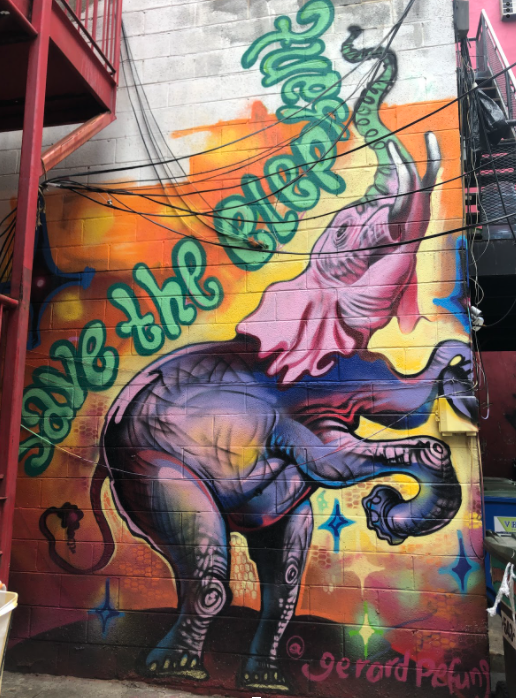 2433 18th St NW
'Save The Elephants' by Gerard Pefung
Located in the alley behind Amsterdam Falafel Shop and completed in Fall 2018. The mural represents the support for elephants around the world. It was originally painted on another building, but the owner painted over it the following day. Amsterdam Falafel Shop graciously allowed the artist to repaint it on their back wall.
---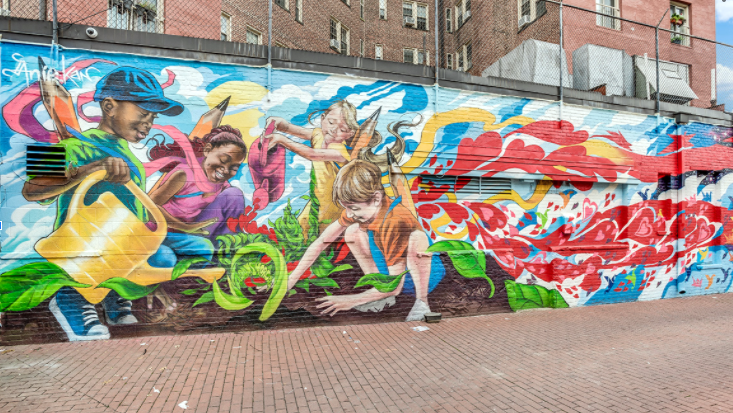 1812 Calvert St NW
'The Adams Morgan Mural' by Aneikan Udofia
Located behind Fed-Ex Office and completed in Spring 2017. Celebrating the history and significance of the Adams Morgan community here in DC.
---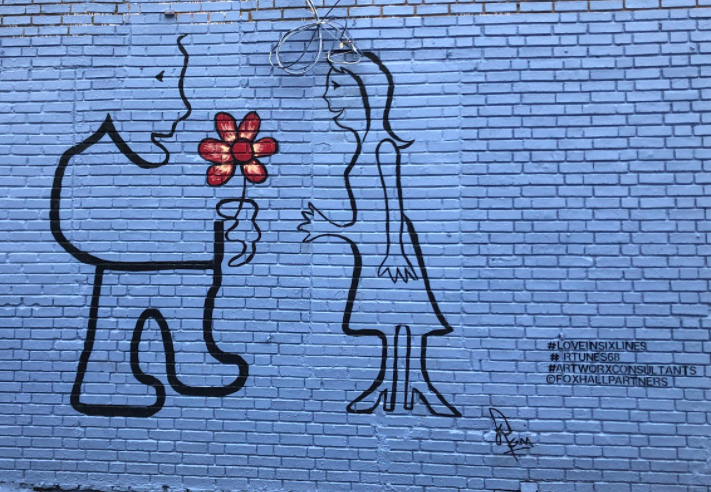 1737 Columbia Rd NW
'Love in Six Lines' by Ravi Raman
Located next to Safeway and completed in Fall 2018. Inspired by Pablo Picasso's minimalist glass paintings, artist Ravi Raman created Love In Six Lines as a
celebration of love and relationships depicted in a series of whimsical paintings and Instagram posts. Limiting each illustration to just six lines, Raman makes the analogy between his simple yet deceptively complicated drawings to that of love and relationships.
---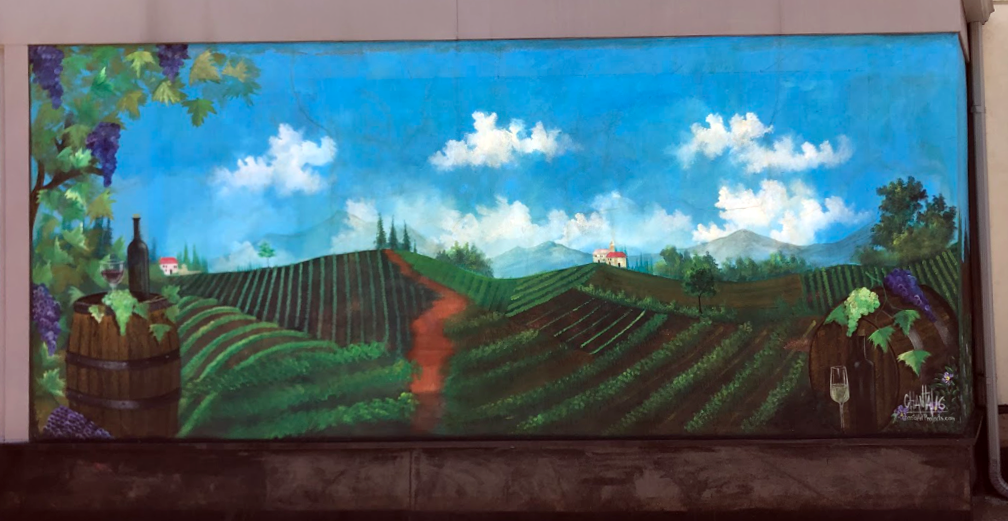 1726 Columbia Rd
This mural is a vineyard scene to the right of the storefront windows of Metro Wine & Spirits. It was completed in 2016, by Chantal (chantalartprojects.com)
---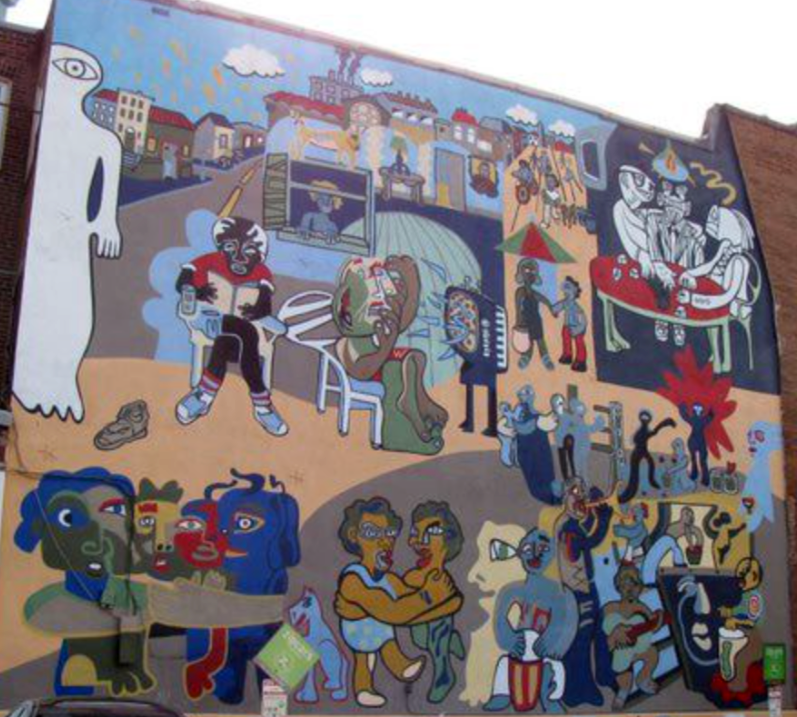 1817 Adams Mill Rd
'Mural Un Pueblo Sin Murales' by Felipe Martinez, Carlos Salozar, Carlos Arrien, & Juan Pineda (translation: A People Without Murals are a Demuralized People) Located on the side wall of Kogibow Bakery and completed in 1977.
This mural is the oldest and only mural remaining in Adams Morgan created by a group of Latino immigrant artists. It was brought back to life in 2005 by Sol & Soul, A D.C. Artists-activist organization, with the collaboration of artist Juan Pineda. It was then renovated again after the earthquake in 2011 also by artist
Juan Pineda with a grant from the DC Commission on Arts and Humanities and the assistance of DC Arts Center.
---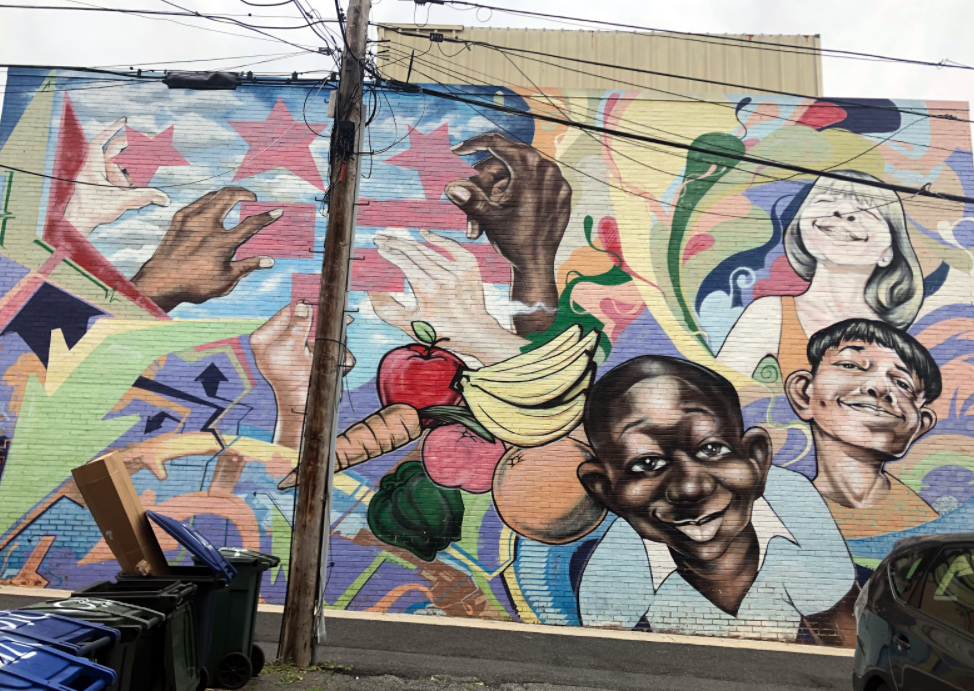 1747 Columbia Rd NW
Mural by artist Aniekan Udofia on the wall of Safeway in the alley next to entrance.
---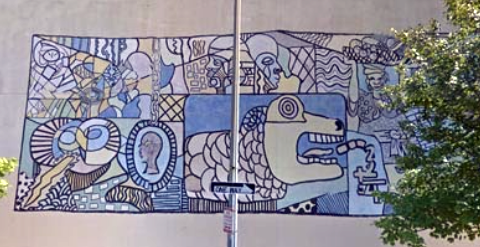 Old Morgan School Rd
'Unity'
Located on the Pepco substation and completed in 1982.
This mural was created as a summer youth project, under the supervision of the late Allen Carter ("Big Al"), and Ligia Becker, a Columbian artist with ties to Centro de Arte. The title of the piece, Unity, suggests the theme of the mural painted by 11 youths of different cultures and ethnicities. This is on a Pepco substation and Pepco is currently in the process of potentially updating or replacing this mural.
---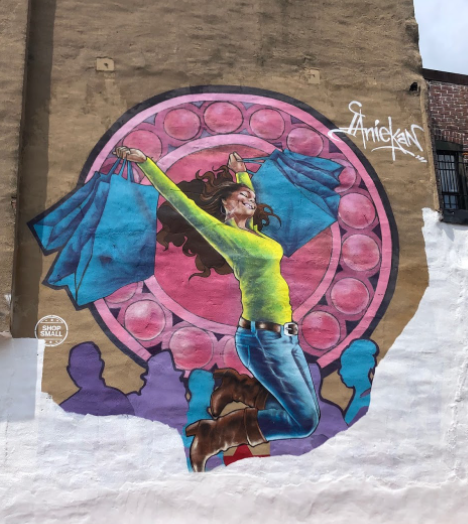 2423 18th St
Shop Small mural funded by American Express in 2014 as part of Shop Small Saturday. Artist is Aniekan
Udofia.
---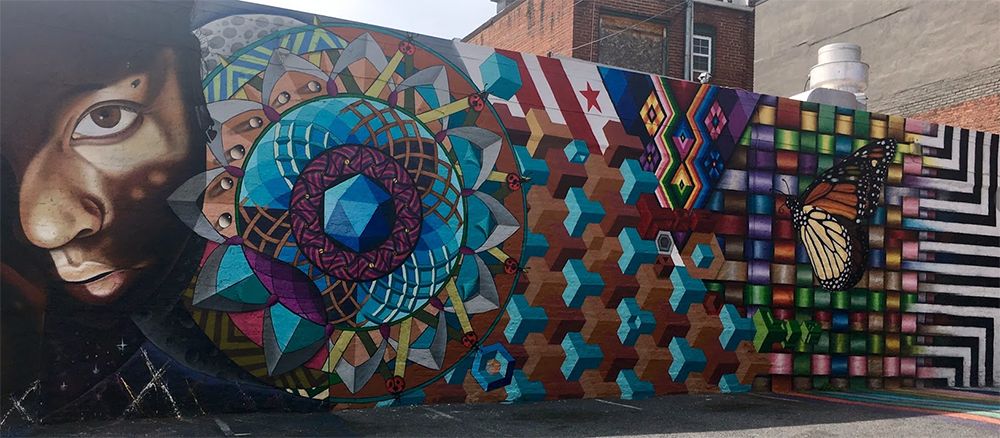 1785 Florida Ave NW
Located at El Tamarindo, and completed in 2019.
From the Eric B's Instagram page: "I make no separation between my art and my life" said the great Paul Robeson and this sentiment is something I feel as well. El Tamarindo is a local institution a Salvadoran America, second generation restaurant that had stood the test of time with in the changing landscape of Washington DC. So when I was blessed with the opportunity to use their walls as my canvas and share my work with the community I felt it was only right to lose myself in this one and simply play to my heart's content. So why stop at the wall when you can take it to the floor, I Incorporated concrete relief and even my string theory installation. In the end like this beautiful and wonderful city of ours it takes many different pieces coming together in harmony to inspire its greatness."
---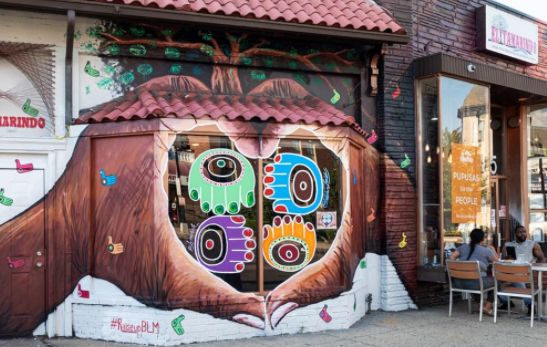 1785 Florida Ave NW
From El Tamarindo's Instagram page: "Each one of the four, diverse color hands, at El Tamarindo front window symbolize: K'AL in Maya script with the meaning: "raise up". The two large scale black hands that wrap up K'AL center-piece create the shape of a heart and intend to bring love and joy to Black and Brown communities. El Tamarindo is El Salvador's house in Adams Morgan since 1982 and remains one of the few non-gentrified restaurants in the area."
Title: K'AL: Raise-up; #RaiseupBLM; Authors: Musah Swallah, Ghana and Frida Larios, El Salvador.
---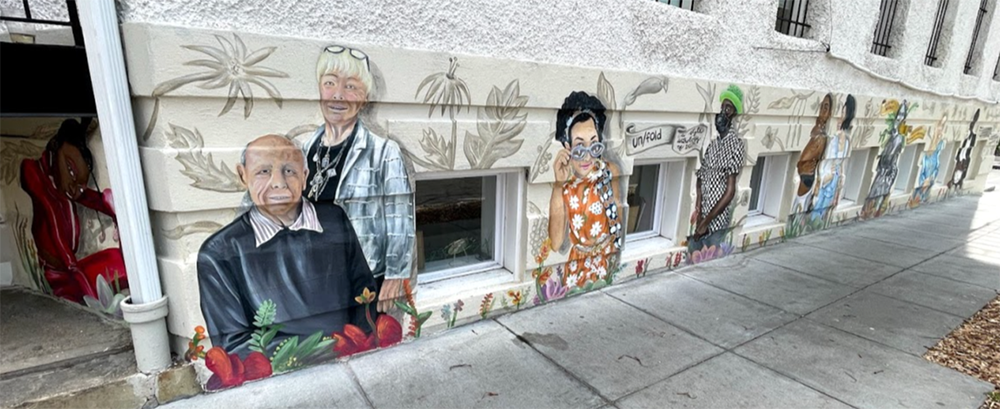 1664 Columbia Rd, NW
"Un/fold: A Style Anthology of DC" by Chelsea Ritter-Soronen
The mural, entitled "Un/fold: A Style Anthology of DC", celebrates Elizabeth Keckley, former slave turned elite DC fashion designer, and nine other Washingtonians who have carved out a space for the articulation of cultural belonging and creative expression in the capital.
---
Check this page often as street art is constantly popping up around Adams Morgan! Be sure to tag your photos using #AdMoArts and @admobid.