2023 Valentine's Day Window & Storefront Design Contest
This year the Adams Morgan Partnership BID is sponsoring a Valentine's Day retail window/storefront decorating contest. All businesses within the boundaries of the Adams Morgan Partnership BID with sidewalk-facing windows were eligible to enter.
Judging will take place on Friday, February 10. Winners will be announced on Valentine's Day (February 14). Businesses are encouraged to begin decorating their windows as soon as possible. Judging will be based on originality, use of space, overall creativity, and other factors as determined by the judges.
Judging will be conducted by a panel consisting of residents and elected officials. None of the judges will have any direct affiliation with participating businesses or be members of the Adams Morgan Partnership BID staff. The community will also be able to vote on their favorites through an online poll on our website from 2pm on Friday, February 10 through midnight on Sunday, February 12.
The online poll will be available on this page at approximately 2pm on February 10.
Prizes: 
1st Place $500
2nd Place $300
3rd Place: $100
For more information, email Brian Barrie
2023 Winners!
Congratulations to our winners!
First Place: Duplex Diner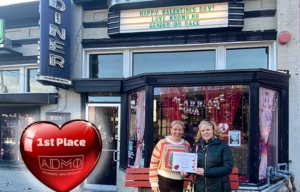 Second Place: The Cakeroom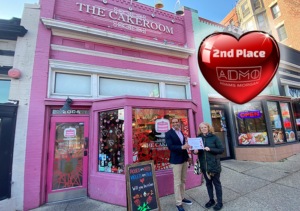 Third Place: Because Science